In line with ITMA's focus on innovation, a number of new initiatives was introduced to add greater value to the participation of visitors and exhibitors. Among them was the ITMA Innovation Lab which comprised four key components: Research & Innovation Pavilion, ITMA Sustainable Innovation Award, Speakers Platform and Innovation Video Showcase.
The recorded sessions of the ITMA Speakers Platform will be made available on itma.com from September. Join our mailing list to receive updates.
Research & Innovation Pavilion
Located near the Speakers Platform, the pavilion was participated by 26 institutions.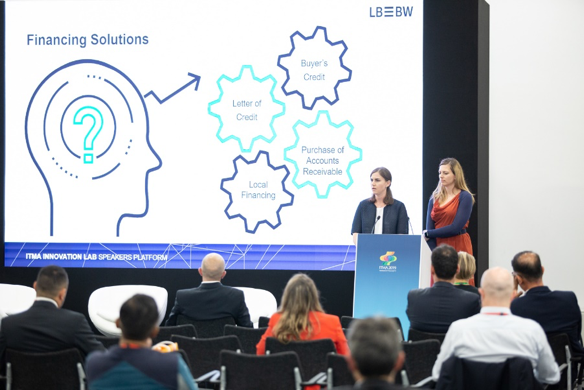 ITMA is the most important trade show for DITF and for the textile industry. Anybody and everybody who is in this business will have to visit ITMA. DITF encourages our students to visit ITMA once every 4 years. It is truly the textile and garment innovation platform for the industry. Students can gain a lot of practical knowledge visiting the exhibition, deepening their learning on textile innovation."
Hendrik Hauss, Manager Public Relations, Deutsche Institute für Textil- und Faserforschung - DITF Denkendorf
ITMA Speakers Platform & Innovation Video Showcase
Held over five days across four themes, the ITMA Speakers Platform and Innovation Video Showcase were very well received by the visitors. The Speakers Platform which also included a finance forum, also featured presentations by invited industry speakers. This proved to be a success. 98% of the respondents expressed their intention to attend the next platform.
As a material developer at IKEA, the Speakers Platform supplemented my visit to ITMA 2019 with a comprehensive picture of the textile world, especially the insights and developments that improve the existing industry or disrupt the future. There was an interesting contrast between learning from exhibitors about the features of their machines and hearing from experts about research results that showed more circular and humanistic perspectives. It was inspiring, for example, to hear from Philipp Sievers about measuring and communicating textile 'softness' based on human skin contact, as well as Yoel Fink sharing AFFOA´s vision on textiles as the new software."
Linda Worbin, Material and Innovation Developer, IKEA of Sweden
a) Industry Excellence Award

Winner: Candiani SpA
Nominated by: Lenzing AG
Innovation: Candiani Re-Gen: Creating Circular Denim
Mr Alberto Candiani from Candiani SpA (centre) received the trophy from CEMATEX President Mr Fritz P. Mayer (left), at the award presentation ceremony. Candiani was nominated for the award by Ms Tricia Carey from ITMA 2019 exhibitor Lenzing AG (right).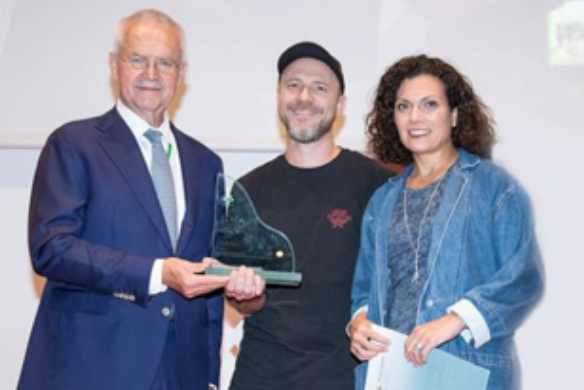 Finalist: Levi Strauss & Co
Nominated by: Jeanologia S.L
Innovation: FLX Customization Studio
Finalist: Lee
Nominated by: Tonello S.R.L.
Innovation: All-in-One System
"ITMA represents the widest global gathering of our industry and the only platform which can showcase the innovation we need to change the impact of what we do on our Planet. We are truly proud we won the ITMA Sustainable Innovation Award 2019 together with our partner Lenzing. It meant a lot to our company, especially to our R&D division. The Regen fabric which led us to the award is a great example of how to combine new ingredients and new technologies in order to achieve an innovative type of denim made with recycled materials only. ITMA offers the chance to activate the research for new ingredients and new technologies which will change our future."
Alberto Candiani, President, Candiani SpA
b) Research & Innovation Excellence Award – Master's

Winner: Mathias Zidda
Nominated by: Institut Für Textiltechnik, RWTH Aachen University
Innovation: Development of a gear driven 3D rotational braiding machine and its control concept

First runner up: Sarika Sunil Borikar
Nominated by: D.K.T.E. Society's Textile & Engineering Institute
Thesis: Sanitary Napkin: A Greener Approach
Second runner up: Pamela Massaccesi
Nominated by: Universidad De Buenos Aires
Thesis: TUTTI – Reusable Food Wrapping